Everywhere I go, I come across people with Pit Bull Dogs. A very popular breed.
A Pit Bull Dog is an intelligent, faithful animal. Years ago, it was thought of as the "nanny" dog, the dog you could always depend on to watch out for your children's safety and well being. Gentle, loyal, and dependable.
How is it that they have come to be so widely feared for their reputation as unpredictable and likely to attack humans and other dogs?
This is not a rhetorical question. Some argue that this reputation has more to do with irresponsible owners than with the dogs themselves. I have no doubt that this is true.
Still, statistics show that nearly twice as many humans are bitten by Pit Bulls than by any other breed, and that Pit Bulls tend to be aggressive toward other dogs as well.
I recently watched a docile, friendly female Pit Bull Dog being leash-walked down a busy street. Two women with children stopped and turned around to avoid meeting her. A couple with a toddler continued to approach, but picked up their child and held him in a protective embrace as they passed on the sidewalk.
A man with a Great Dane approached, and from the other direction came a girl walking her German Shepherd. The three dogs met, stiff-bodied and growling, straining on their leashes. A scuffle ensued, with their humans pulling and shouting commands the dogs largely ignored.
Had it not been for the leashes, I'm sure the altercation would have been more severe.
When this kind of thing happens, it is usually the Pit Bull Dog that gets the blame—whether or not it instigated the fight. It comes back to their bad reputation.
If you are a Pit Bull "owner," what deliberate steps have you taken to socialize their dogs with other dogs? As well as with people?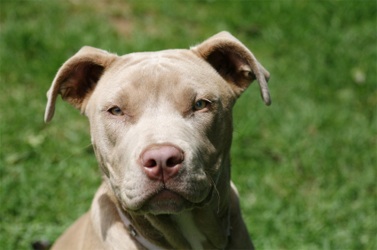 The following article from Pit Bull Rescue Central offers solid advice for socializing your Pit Bull with other dogs:
Socializing Your Pit Bull
 
New pit bull owners often ask, "What is the best way to socialize my pit bull with other dogs?" There are many ways to do so! The age of your dog as well as his/her individual personality will help you determine which methods are appropriate for socializing your dog.

Pit Bulls under six months of age should be enrolled in a puppy class. Many obedience training facilities have classes specifically for puppies, and often part of the class time is devoted to off-leash play with other puppies.

When seeking out a training facility, it is often helpful to observe the classes prior to attending so you can get a feel for how class will be conducted and see if it is a good match for you and your dog. Off-leash play can be an important feature of a puppy class, but it should be done properly (i.e., does the instructor factor in age, size, and play style of puppies when organizing play groups?).

To socialize adult dogs, PBRC recommends that owners first carefully introduce their pit bulls to other adult dogs. A great way to introduce adult dogs is to take a nice long walk on leash together. Please see PBRC's webpage on introducing dogs.

Some ways that adult dogs can interact with other dogs are:

Taking long leash walks with appropriately matched dogs of good temperament and good social skills and with known, responsible owners.

Organized play dates with friends' dogs in a fenced area.

Taking an obedience or agility class, where your dog will learn to focus on 
you in the presence of other dogs, and may also receive positive 
reinforcement in the presence of other dogs.

PBRC does not recommend dog parks or dog daycares. There are a number of reasons why:

While dogs can learn good social skills at a daycare or park, they can just as easily learn poor social skills in these largely unsupervised situations. For example, a dog that is fearful around other dogs can become even more skittish in a large pack of rowdy dogs.

By the same token, a pushy dog may bully other dogs without a human to correct this behavior. The ratio of staff per dog in many dog daycare settings is so low, making it difficult to control the experience for each individual dog.

Dogs in a pack act very differently than they do individually; even a 
well-socialized dog of good temperament can be drawn into "pack 
behavior."

There's no way to predict or know the behavior of the other dogs in the group at a park or daycare; many people take their dogs to daycares or dog parks with little understanding of their own dogs' tolerance for other dogs; there is often an expectation that "dogs will work it out" however this can occur in a way that results in injury.

Dogs playing together for long periods of time in large groups with 
unstructured time or activities can result in inappropriate behavior. Some examples of inappropriate behavior that may develop or be rehearsed when unsupervised are: mounting other dogs, antagonizing other dogs, destructive chewing, and excessive barking.

Dog playgroups need to be carefully selected by competent readers of dog body language and with an understanding of social canine behavior; there are many people, well-intentioned, operating dog daycares with very little experience with dogs and, in particular, with little pit bull experience.

If something does go wrong, whether or not the pit bull instigates it, the 
pit bull is usually blamed; every negative incident reflects not only on the 
individual dog, but on bull breeds as a whole.

If provoked in a fight, some dogs will not back away from a challenge. Whether your dog is the victim or the instigator, a negative incident can result in future problems during dog-dog interactions.

Here's what other pit bull savvy groups have to say about dog parks: 
http://www.badrap.org/rescue/dogpark.html

        
Here is some additional information on dog aggression and dog interactions:
 http://www.badrap.org/rescue/dogdog.html

Lastly, some dog daycares and dog parks prohibit bull breeds from attending.
While PBRC does not support any legislation or policies that are breed 
specific, we hope that owners will make responsible choices and set their 
dogs up for success and for safe fun!

This article was first published under the title "Socializing Your Pit Bull" at www.pbrc.net/socializing.html .

The PBRC website is a virtual shelter and resource for owners and caretakers of American Pit Bull Terriers, American Staffordshire Terriers, Staffordshire Bull Terriers, and pit bull mixes.
So there you have it. If you own a Pit Bull, it is up to you to take extra care to make sure he or she is not involved or implicated in any violent interactions. As I see it, there are three approaches that together can go a long way toward protecting the breed from breed-specific legislation and the threat of forced extinction:
Exploring every possibility for fostering humane treatment of the dogs and gentling the humans bent on the dark side of dog fighting;
Coming up with more socially acceptable and humane outlets for the dogs' aggressive energies; and
Keeping the breed's positive aspects in the public eye. There are tons of true stories of Pit Bull fidelity, heroism, and rescues. You may have some stories of your own. If so, you owe it to the breed to tell them at every opportunity, and perhaps even to write them.
It goes almost without saying that this breed requires solid training and socialization from an early age. CLICK HERE to receive a FREE top-notch dog training course for your Pit Bull dog. When you enroll in this FREE course and email us a copy of your enrollment confirmation, you will also receive a FREE BONUS REPORT with useful tips on just about any dog care issues you may be facing.
Pawsitively,
Chiwah Carol Slater
The Pet Story Passionista
Word Weaver Chiwah
Founder, PetWrites.com, WordWeaver4U.com
P.S.  We will help you improve the reputation of Pit Bulls. CLICK HERE to become a Pet Writes Member, and get the help you need to share your Pit Bull Dog stories to showcase the positive aspects of this wonderful breed. Membership is FREE.