Please don't let the title of this article give you the idea that I lack respect for dogs that go through service dog training or for what it takes for a dog to qualify as an official service dog. I hold dogs certified for service and the trainers who took them to that point in high esteem.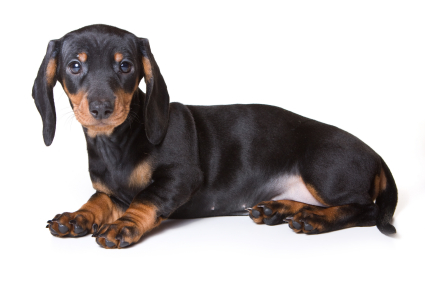 That said, I also recognize that service comes naturally to the canine.
This fact was reinforced for me by a story I heard this evening about my adult niece Connie and her dog, a Toy Dachshund mixed breed.
Mind you, my opinion of Toy Dachshunds has been forever tainted by my experience with Mr. Schultz, a member of the breed my mother purchased when I was a kid. Mr. Schultz was the only obnoxious dog we ever had. He barked, he bit, and he was forever trying to hump my leg. (I was young and had no idea what that behavior was all about, but I remember thinking it was pretty creepy.)
But Connie's dog is, evidently, a dog of a different color.
Connie is deaf in one ear, and can't hear the phone if she's in another room. No matter. The dog saves the day. With zero service dog training under his belt, and without any coaching whatsoever from her, he takes it upon himself to go and let her know when the phone rings!
The thing is, he does this in spite of the fact that he can hardly stand it when Connie talks on the phone. He wants her attention, you see. And when she's caught up in conversation with another person, he's out of the loop, He goes a little crazy.
Connie has a little stuffed camel my sister gave her. She used to keep the camel on her bed, until the dog came along and fell in love with it. The toy camel figures into the story of how resourceful this dog can be, and how considerate.
Why do I say this? Because, rather than make a total nuisance of himself when he's feeling left out, what does he do? He goes and gets the camel and entertains himself with it!
Now … the form of entertainment is reminiscent, I  admit, of Mr. Schultz. You guessed it—the dog humps the toy camel until Connie gets off the phone! Hey, at least he expresses his amore to the camel, and not to her leg.
I say that shows come class. Don't you agree?
So there you have it. The dog was born to serve. He alerts her to phone calls even though doing so inevitably sets up a situation he abhors. And then he finds a way to amuse himself rather than indulge in a pity party.
Don't you think this is a great story? Not only is Connie's dog a default service dog; he's also teaching by example.
If only humans were so wise. How many times have you watched a human set himself (or herself) up for a distasteful situation, and then bitch and moan about it? Setting oneself up to be unhappy is a common human behavior pattern.
Pets are friends, servants, teachers. Would you be willing to share some of the lessons yours have taught you to help others make better choices about how they react to the situations life brings them?
To open the door to sharing your pet pictures and stories on service dog training or other topics,  CLICK HERE to become a Pet Writes Member. It's FREE. You'll receive a helpful bonus gift when you join, and an ongoing wealth of compelling pet stories and solutions to your pet challenges.
Pawsitively,
Chiwah Carol Slater
The Pet Story Passionista
Word Weaver Chiwah
Founder, PetWrites.com, WordWeaver4U.com