Dulce, Amy's cute little Teacup Chihuahua pup, had bad breath. Really bad. So bad that Amy could barely stand to hold her.
"I don't understand how such a tiny thing can have such overpowering bad breath," Amy (not her real name) told her friend. "She climbs on my lap while I'm working, and I nearly fall off my chair from the stench. It's so distracting, I have to put her in a pot she can't climb out of, a few feet away from my computer, so I can get my mind off the smell of her breath enough to do anything."
Her friend sympathized, with her and with the dog. "Maybe she has tooth decay, or gum disease," she suggested. "Have you taken her to the vet?"
"Not for this. It doesn't smell like rotting teeth or gums." Amy knew that foul smell from some of the old men she volunteered to serve lunch to at the senior center.
Still, thinking it might be bacteria in the mouth, she tried brushing Dulce's teeth. That helped, for a couple of days, but the pup hated it. Amy didn't have the heart to force it on her on an ongoing basis.
She tried adding breath freshener to her water, but Dulce refused to drink it. Amy figured she didn't like the smell of the breath freshener. So she tried another brand, but to no avail.
The day came when Amy decided she couldn't put up with the dinosaur breath situation any longer. She gave in and took the pup to the vet.
"Actually," the vet said, "her teeth and gums are in fine condition. If she were older, I would check for baby teeth crowding the mouth and harboring bacteria. But no, that's not the case here. All of her teeth are baby teeth!"
He didn't find any sign of respiratory or stomach problems, either.
Canine bad breath is a common complaint, though not usually for a Teacup Chihuahua pup. But reality was reality.
Have you been bothered by your dog's breath? What did you do?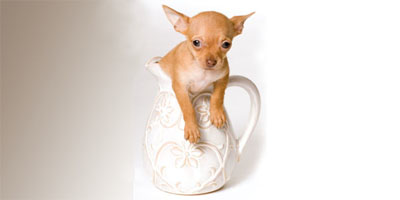 Here's what Amy did:
Following her vet's advice, she began giving Dulce little

raw carrots

instead of the commercial doggie treats she had been feeding her.
On the recommendation of a knowledgeable friend, she put the pup on a canine

raw food

diet. That meant paying strict attention to hygiene. Amy didn't mind. Besides, she found that she enjoyed feeding the raw food because it smelled good! Not like the odor of the processed food she had been feeding.
Another friend suggested she get Dulce a high quality rope toy, with a twisted string with a knot at the end. He told her to soak it in unsalted beef broth and dry it out slowly in a 200-degree oven, and then to give it to Dulce to chew on. It seemed to help clean her teeth, much as dental floss would.
The result? After about ten days, Amy noticed that when Dulce jumped up onto her lap she no longer had bad breath! The simple home remedies had been effective, and the dog had actually enjoyed them. Especially the tasty rope toy.
Pet stories are a great tool for boosting your business. If you think a story about a chihuahua's bad breath wouldn't lend itself to that, think again. What does this story illustrate? For one thing, the variety of solutions offered could be used to make the point that in any situation, there are many ways to get un-stuck. Nearly every pet story (perhaps every single pet story) can be used to illustrate a point. The great thing about pet stories is that pets capture hearts, no matter what the story is.

For all the help you need learning how to use your pet stories to further your business, join the Pet Writes Business M.A.G.I.C. community. Get started today with the 7-Day Trial.
Pawsitively,
Chiwah Carol Slater
The Pet Story Passionista
Word Weaver Chiwah
Founder, PetWrites.com, WordWeaver4U.com