When you become a PetWrites Member, you will be in the right position to learn about how YOUR pet stories can bring you the life of your dreams.
First off, whether you think of yourself as a writer or not, there are legitimate ways to become known as a pet story author without actually having to do any writing!
The first step is to read this fun little ebook, your FREE GIFT just for joining Pet Writes: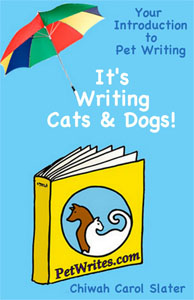 Why write? What if you become a best selling pet book author? What if that turns out to be your own personal pot of gold? As a Pet Writes member, you will learn the EASY ways to get your stories written and out to the world.

But sharing your stories isn't just about writing them! Maybe you would rather learn how to tell your stories in a way that engages an audience. Whether your goal is to enrapture your children or grandchildren or to enhance your message to an adult audience, as a PetWrites member you will have access to the latest information on exactly how to make your stories more compelling.

Membership is FREE.
As an added benefit, all members will receive the complete set of Pet Writes articles. You don't have to do anything to get them – they will come trickling into your inbox. Don't be surprised if the information you're looking for comes in exactly when you need it! It often works that way.

To join, just fill in your first name and then your email address in the two boxes below, or in the sidebar to the right, and click the 'Send Me My Free Gift' button:
[[[MyInstantWidget-text-9]]]
We look forward to engaging with you in ways you will enjoy!
Until then, here's to your future of boundless joy as a pet companion!

Chiwah Carol Slater
Word Weaver Chiwah
Founder, PetWrites.com, WriteYourWayToProsperity.com, WordWeaver4U.com