Welcome to your 7-Day Trial Gold Membership!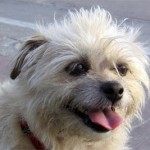 Meet Precious, the Pet Writes pup!
(She's really not a pup anymore, but she likes the fantasy as much as any lady would!)
Precious keeps busy performing all over the site. Sometimes she even sits in on our our calls and webinars! She's an indispensable part of the family.
Your 7-day trial will begin with the webinar you join or the first podcast you listen to.

During your trial membership we consider you a member of the Pet Writes family, too, with all the rights and privileges thereof.
As a Pet Writes Member you can:
• Take part in the weekly Pet Writes Business MAGIC Gold Call Webinar, for members only.
On this call – really a webinar, which you can access online or from your phone – one person volunteers to "sit" on the 'Star Seat'. We take a look at their business, their purpose and goals, what's working and what's not.
Then we plan out a strategy that will get them from where they are to where they want to be.
This webinar is an opportunity for the person on the Star Seat to interact, ask all their questions, and get the guidance they need. Other participants are invited to ask questions or give feedback at the end of the webinar.
The webinar takes place on Thursday at 1pm Pacific time, 4pm Eastern.
Keep an eye out for an email soon with the date and time instructions for how to join the webinar.

When you receive your link to the webinar, please don't share it with anyone else. If you have friends who would like to take part, invite them to sign up for their own trial membership at PetWrites.com/7-day-trial/.
If you can't make the webinar during your trial membership period: drop us a line at petwrites@gmail.com using the subject line "PLEASE SEND WEBINAR LINK" (all caps) to let us know. In the body of the email, give us your name and we'll send you a link to the recording.
• Listen to the current Members-Only Podcasts (Coming Soon!)
On our podcasts we discuss better ways of working your business to free up your time to serve a broader audience, worldwide even, if you so desire. And at the same time, to make more money.
We offer you interviews with recognized experts on the topics of Mindset, Actualizing Your Passion, Getting Off the Income Seesaw, Inspiring with Your Book, and Cashing In. You'll find a variety of points of view expressed here, with a wealth of tips and shortcuts to make your life easier and more productive.
You're sure to get plenty of new ideas and be inspired to try out your own twist on them. And we hope you'll come back and tell us how it worked out!
We look forward to hosting you on a webinar soon!
BILLING: When your 7-day trial completes, you will be billed for $19.97 for the following month; after that, you will be billed monthly. You can cancel your membership at any time. Should you wish to cancel, email us with the subject line CANCEL MEMBERSHIP at petwrites@gmail.com at least two days before the end of your 7-day trial or billing period.
If you need to contact us by phone, call 929-224-4924. If we don't answer, leave a voice message.