How would you like a delightful full-color Christmas ebook to give as a gift to a special child?
With three grandbabies and several other children on her Christmas gift list, Elizabeth was intrigued to hear about our FREE Christmas ebook for kids. She decided to look into it
Here's what she discovered: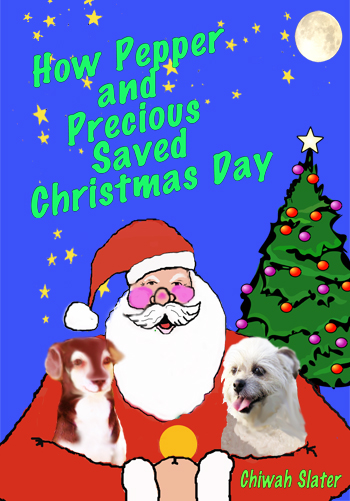 The brand new Christmas story features Santa and Rudolph and two delightful pets who save the day when Santa gets too fat to slide down the chimneys. And the author is giving it away for free! What could be better?
'What-Ifs' about Christmas can create a great deal of excitement in a child's mind:
What if Santa got too fat to fit down the chimney?
What if Rudolph fell sick and

couldn't lead the reindeer

?
What if good little girls and boys all over the world had to wake up to … a Christmas with no toys?
In 20 pages of original colorful artwork and delightful dog-gerel, the story of how Precious the 'can-do' PetWrites pup and Pepper the big-hearted Chihuahua saved Christmas will entertain and amuse children who love dogs, Santa, toys, and Rudolph.
Elizabeth had as much fun reading it to her kids as they had listening to it. Now, they're really in the Christmas spirit!
I think you'll enjoy it, too. In the Christmas spirit, I'm giving this original Christmas ebook away this week – FREE. You're welcome to share it with as many kids (young and old) as you like. Compliments of PetWrites.com!
Just fill in your name and email address and you'll be taken to your free download for How Pepper and Precious Saved Christmas Day!