Congrats on Taking Your First Step
to cashing in on your Pet Stories!!
It's Writing Cats & Dogs …
Your Guide to Learning How to Write a Book and
Get in on the Pet Writing Cash Bonanza!
And … I'm going to show you how to get it FREE!
With the knowledge contained in this little ebook,
you will be in the right position to use

YOUR pet stories
can bring you the life of your dreams.
Never thought of yourself as a writer?
No problem!
If you can talk,
you can become a pet story author!
The first step is to read
It's Writing Cats & Dogs!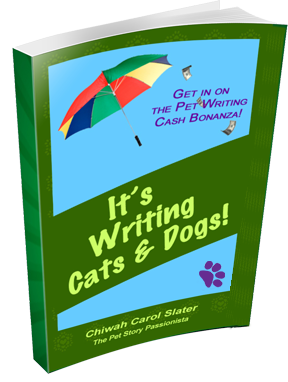 It won't take you long, I promise.
(It's short. Only 25 fun and informative pages.)
Now, here's the question: Why write about cats and dogs?
Consider:
Don't you just love telling your pet stories?
What if you become a best selling pet book author?
What if that turns out to be your own personal pot of gold?
Now … You can get this ebook on Amazon

for just $2.99.