Congrats on Taking Your First Step to Cashing In on Your Pet Stories!!
It's Writing Cats & Dogs …
Your Guide to Learning How to Become a Published Pet Book Author!
Never thought of yourself as a writer?
No problem!
If you can talk, you can become a pet story author!
The first step is to read It's Writing Cats & Dogs!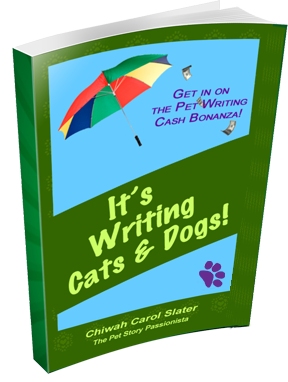 It won't take you long, I promise. (It's short. Only 25 fun and informative pages.)
Now, here's the question: Why write about cats and dogs?
Consider: Don't you just love telling your pet stories?
What if you become a best selling pet book author?
What if that turns out to be your own personal pot of gold?
Could happen.
Get It's Writing Cats and Dogs on Amazon
for just $2.99.