WELCOME to your FREE Gold Membership in
the Pet Writes Community.
As a Pet Writes Founding Member,

you will soon have access to
three months of the Pet Writes Gold Challenge …

Absolutely FREE!
(Non-Founding Members pay $14.95 per month)

30 Days of Lessons to help you

build a more successful at-home business …
by integrating your pet into your business promotions!
PLUS, your weekly Gold Challenge Teleseminar!
Once I show you the magic of this,
you will wonder why you haven't already taken these steps
to let more of YOU shine through in your business.

But … the Challenge isn't ready yet.
I'm still working on it. So you have to be patient.

ETA: March 30, 2013!
MARK YOUR CALENDAR!

For now, have fun entering your favorite pet photos in our
Members Only Pet Photo Contest!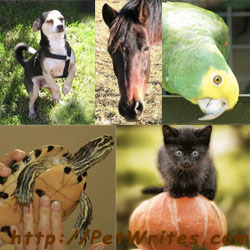 Enter as many times as you like.
One winner will be chosen at the end of each month.
The winning photo will be displayed on the site the following month.
Pick photos that will warm the hearts of pet lovers!

Here is your link to enter the Pet Writes Photo Contest:
https://petwrites.com/members-area/photo-contest
When you get there, you will need a password.
Your password is: petloverme
Important: Save this password somewhere where you can find it easily!

Please do not share this password with anyone.
Much of the content of this page was originally published on http://PetWrites.com.welcome-pet-writes-member.