First, before you claim your
101 Tips for Making Money Online,
I want to make you a special BONUS Offer:
In addition to these powerful MONEY MAKING TIPS,
I want to offer you
Membership in the Pet Writes Community,
absolutely FREE!
As a Pet Writes member, you will be able to take advantage of
our FREE 30-Day Pet Writes Challenge . . .
where we take you by the hand and show you
an incredible, proven but rarely used way to

Turn What You Love into a Successful Business!
If I understand you correctly …
Isn't that exactly what you want to do?
PLUS, you'll be invited to join our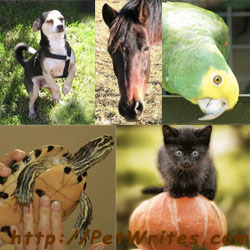 'Members Only'
Pet Photo and Pet Story Contests!
To get your FREE Membership, here's what to do:
After you claim your amazing
101 Tips to Making Money Online …

email me your order number at
petwrites@gmail.com
and I will email you the link to
join Pet Writes for FREE
and receive all the perks of membership.
Fair enough?
Now, here is your link to get your
101 Tips to Making Money Online
at a bargain price (truly) …

and create the best home based business possible!
And don't forget … email me your order number!
to petwrites@gmail.com