Thank You for your purchase of the ebook,
Doggie Eats!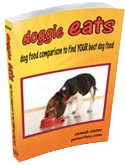 ** Why You Should Read Doggie Eats:

• When you should start your dog on a better diet
• How your dog's diet affects its comfort
• What to look for in a good dog food
• Where to shop to find the best dog foods
• Whether to give your dog rawhides or not
• Why you should not give your dog table scraps
• The special dietary needs of puppies and older dogs
• The very best way to clean your dog's teeth
• How much extra food your pregnant dog really needs
• Whether to give your dog vitamin and mineral supplements
(HINT: It's not what you think)
• The pros and cons of a raw food diet
• And most importantly, WHY your dog needs a better diet
• And a lot more!
** What can better nutrition
mean to your DOG? **

Studies show that proper nutrition can help prevent
a world of problems for your dog, ranging from obesity to arthritis.
When you understand what your dog needs and follow
the recommendations in this ebook,
you will be giving your dog the gift of a longer, healthier life.

No More Guessing!
"Doggie Eats" gives you all the information you need to make your own best decisions!
YOUR DOWNLOAD LINK for Doggie Eats (pdf):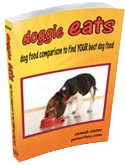 And … Here's YOUR DOWNLOAD LINK for the BONUS GIFT … 
The Pet Writes Dog Food Label Reader's Cheat Sheet (pdf),
so you'll never be fooled by label double-speak again: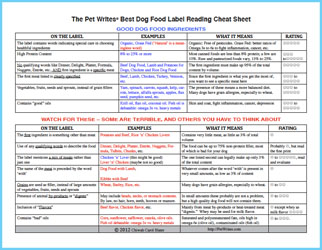 TROUBLESHOOTING:
PDF file: If you are having problems reading the pdf files, make sure to download the free Acrobat reader at http://get.adobe.com/reader/
If you don't know where you saved the files, all you have to do is go to "search" all files and folders, and put in the name of the file. Your computer should find it for you.
— Chiwah Carol Slater
The Pet Story 'Passionista'
Founder PetWrites.com, WriteYourWayToRiches.com, and WordWeaver4U.com