Doesn't your dog deserve
the very best nutrition?

Are you mystified by confusing dog food labels?
Exclusive Offer!
Never Be Fooled Again by a Misleading,
Hard-to-Understand Dog Food Label!
 Dear Friend…
What would you do without your dog? Your faithful, loyal companion?
Ask yourself: When was the last time you gave thought to what you put into your own body? Probably fairly recently, right?
Well, when did you last think about what you put into your dog's body?

If you love your dog (and I know you do), wouldn't it make sense to be sure you're feeding the BEST …

Before

your dog falls sick?

Before

you run the risk of losing your best friend?

Before

you get stuck with a vet bill so high it hurts?
Maybe your dog is not having major problems now. But what about tomorrow? These things build up, you know.
Perhaps you can benefit from Sophia's experience …
* Sophia's Story *
Sophia noticed that Maysie, her cute little pooch, was having some minor problems. Itching, for one. At every opportunity, the poor dog would be roll around on the carpet to scratch her back.
Watching her made Sophia feel terrible.

Maysie didn't have fleas. Sophia made sure of that.
She tried all the creams her friends recommended, to no avail. She went to the vet and was given an analgesic, which seemed to help.
But Sophia is a conscious woman, and she knew the medication was just masking the symptoms. It wasn't getting to the root cause.
What bothered her most was that Maysie seemed to be losing her spark. No longer did she bound out of bed in the morning, eager for a walk. Her eyes were dull. She just didn't seem like the same dog she'd been a few months earlier.
Sophia thought back to a time in her own life, not so long ago, when she'd felt draggy. A nutritionist had helped her change her diet, and as a result she was enjoying a boundless stream of energy.
Wondering whether nutrition might be the answer to Maysie's situation, she began doing her own research to see if she couldn't get to the root of her dog's problems.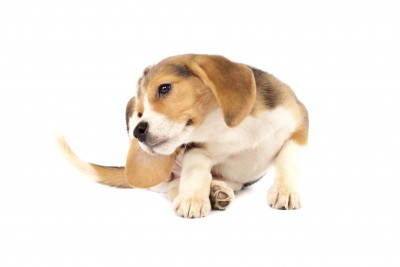 Long story short, Sophia spent days researching dog nutrition online. She discovered so many variables it boggled the mind. She spent hours talking to her vet and learning how to read dog food labels.

Eventually, she decided on a higher quality dog food. She followed her vet's instructions in making the switch.

Maysie is now a sparkly-eyed, energetic pooch. And her itches are a thing of the past.
What Sophia realized was that self-improvement and nutrition weren't just about taking better care of herself. As a conscious being, it was up to her to learn how to take better care of the pet she loves, too.
You know how your dog depends on you. It can't go to the store and buy its own food!
Have you thought about the damage your dog's food might be doing?
Now is the Time to Start Thinking!



There has never been a more vital time to begin thinking about your dog's diet. If your dog is a puppy, what you feed now sets the stage for its entire life. If your dog is older, a proper diet can handle some of the problems it may be having.
Like itching, indigestion, overweight, low energy, diabetes, cancer … and on … and on.
How can you know what is the best food for your dog? Do you know how your current food measures up against what else is available?
Unless you do your research – or have someone do it for you – you don't.
* Your Dog's Diet *
Inspired by Sophia and what she had learned, I decided to embark on my own dog food research program. I read tons of dog nutrition information and tried out some changes in our dog's diet.
When I finished, I put together what I learned with the expert advice I found, and wrote Doggie Eats. In it you will find the answers to your questions and concerns about what the best dog food for your dog.
Including:
What are the benefits of wet vs. dry food?

What special dietary considerations are important for a puppy? A pregnant dog? A nursing dog? A senior dog?
Is raw food dangerous? How can you be sure that this most natural canine diet is safe for your dog?
How can you make sense out of dog food labels?

*

Choosing the Right Dog Food

*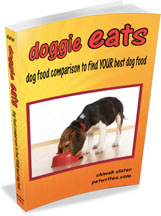 1) Commercial Dog Food
"Doggie Eats" shows you what ingredients you need to look for in a dog food, and what to stay away from. It will also help you decide what type of dog food to buy, be it soft, semi-moist of dry.
2) Hints for Handling Common Problems
  "Doggie Eats" also shows you what to do if your dog's stomach acts up, how to handle your dog's stomach and waste issues, and when and whether you should call a vet.
3) Raw Dog Food
"Doggie Eats" shows you why you would want to feed raw, and why you might want to choose one raw food over another.
Click this button to pay with PayPal
or Credit or Debit Card:
** Inside this book:

• When you should start your dog on a better diet
• How your dog's diet affects its comfort
• What to look for in a good dog food
• Where to shop to find the best dog foods
• Whether to give your dog rawhides or not
• Why you should not give your dog table scraps
• The special dietary needs of puppies and older dogs
• The very best way to clean your dog's teeth
• How much extra food your pregnant dog really needs
• Whether to give your dog vitamin and mineral supplements
(HINT: It's not what you think)
• The pros and cons of a raw food diet
• And most importantly, WHY your dog needs a better diet
• And a lot more!
** What can better nutrition
mean to your DOG? **

Studies show that proper nutrition can help prevent a world of problems for your dog, ranging from obesity to arthritis.
When you understand what your dog needs and follow the recommendations in this book, you will be giving your dog the gift of a longer and healthier life.

Learn why keeping your dog on a feeding schedule is so important.

Find out how to determine what foods your dog might be allergic to.
No More Guessing!
"Doggie Eats" gives you all the information you need to make your own best decisions!
Get Doggie Eats NOW for just $2.97!
Don't risk your pooch's health for one more day!
Why risk your dog's health … or spend untold hours of your precious time …
struggling to figure out how to find the right food for your dog,
when you can learn all the ins and outs with this miniscule investment?
Click this button to pay with PayPal
or Credit or Debit Card:
As soon as you complete your purchase, you will be taken to a special download page where you will have instant access to the ebook.
AND … as a token of our appreciation,
a little BONUS …

The Pet Writes Dog Food Label Reader's Cheat Sheet!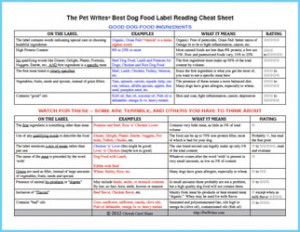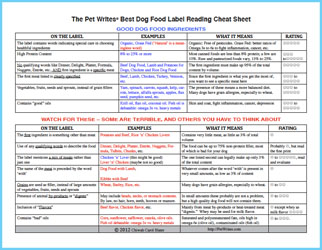 Take it shopping with you.
Print it out or access the link on your cell phone while you're shopping.
(If you don't have a pdf reader, get a free one at your app store.)
Say goodbye to being mystified by clever dog food labels.
Abundant good wishes for your ease in choosing the best dog food for your dog!

Pawsitively,

Chiwah Carol Slater
The Pet Story Passionista
www.PetWrites.com