Have Fun with Your Pet Photos / Images!

**Read through the directions before starting your preparations.**

1. Your Pet Photos:
You will probably need to shoot new pictures. These will be close-ups! Groom your pet(s) so you'll be proud of the pictures in the ebook.
Shoot your pictures today, and start the process right away to allow ample time for customization.
The basic directions here are for cats and dogs, but there are also backgrounds for birds and horses/farm animals. If the directions say "standing" and you would prefer a flying photo for your bird, use your own discretion.
We recommend that you strip out the backgrounds before sending us your pictures. (Scroll down to see the easy instructions for doing this.) If you are unable to strip your backgrounds we will remove them for you. But we do recommend doing it yourself if you can. You'll be surprised at how easy it is!
Photos
You will need two photos of your pet:
• One of your pet lying down with head up (taken standing in front of your pet, a bit off to the side, for use in the bed scene with the Rudolph dream). If your pet is a bird or a horse, look at the example page in the Pepper and Precious ebook to determine what position you want to photograph your pet in.
• One of your pet standing (or flying, if it's a bird), taken from a slight angle (this one is for the other pages on which your pet's photo will appear). For a dog or cat, an excellent way to take the latter photo is to have someone hold out a treat so that the pet stands on his or her hind legs to get it.)
NOTE: We used only one photo of Pepper in the book, in a standing pose identical to the one shown here. We turned him on his side and made other adjustments for the bed scene. Don't do this, as it may not be possible to make those adjustments. Take a photo of your dog lying down.
EXAMPLES: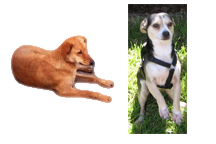 THINGS TO PAY ATTENTION TO:
• Make sure your photos are clear, not fuzzy. Look at the pictures in the book to make sure the photos you send us will work in them.
• Take care that there are NO leashes or human hands or anything else that interferes with the view of the animal's body. Backgrounds can be removed, but whatever is in front of your pet's body when you shoot the picture will stay there in the book.
Although the picture on the left below is a nice photo, it would not work because of the leash in front of the white fur. The one on the right, however, will work fine, as the leash does not cross in front of the dog's body (the collar will show, but hey, that's OK):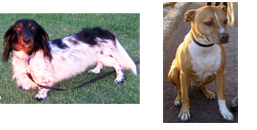 • Be sure that no part of the pet's body is cut off. We need to see the entire animal clearly. Feet and ears count! This photo wouldn't do, as the dog's feet are cut off:

STRIPPING OUT THE BACKGROUNDS:
You can easily strip the background out of your photo, even if you don't have Photoshop. There are several tools that will allow you to do this, but http://clippingmagic.com is our favorite, hands down.
In fact, if your photo has more than one shade of a single color in the background, this program will strip it out much faster than Photoshop.
Upload your photo by simple drag and drop or by clicking the button to upload from your computer. (I have sometimes found that I have to use the 'upload from computer' button, as the drag and drop method sometimes reverts to showing the image on a black background with no available tools.)
Watch the brief tutorial that comes up when you go to the site. It takes less than a minute, and will show you how to remove the background using colored digital marker pens.
If your pet is off to one side in your photo, crop it before uploading it to ClippingMagic so that your pet is more or less in the center of your photo. Then upload your photo.
Once you've done the gross edit using the red and green markers provided on the clipping site, you may want to use the zoom tools to allow you to remove any remaining bits of background.
HINT: Look closely at the spaces between the legs to make sure to get all the background out.
Try to stay within the lines with the green pen, ie, not to go into the background area with the green. If you make an error, use the eraser tool up at the top by the marker tools.
Note that you don't have to paint the entire area you want to preserve or eliminate. Just make green or red pen lines through it. No need to be an overachiever here!
There is no guesswork. You will see what you're creating in the box on the right, so you'll know what corrections you need to make.
Relax. If you find these instructions confusing, know that they will come clear to you as soon as you start the clipping process. 
ClippingMagic is an easy tool to use. My first time, I started with this image of Precious, the PetWrites doggy: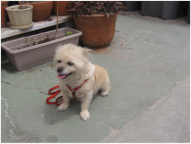 And in less than a minute I had this: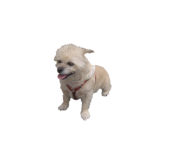 When the image on the right side is what you want to appear in the book, hit the Download button. It will download as a .png file, which is exactly what we need. (A .png file is an image on a transparent background. If your clipped image were a .jpg, it would have a white background and in the book you would see your pet surrounded by a white box – you would only have succeeded in substituting one inappropriate background for another!)
Have fun with this!
Remember … If you are unable to strip your backgrounds, we will remove them for you.
WHERE AND HOW TO SEND YOUR PHOTOS AND PET NAMES:
Send your pet name(s) and all of your photos in a single email to PetWrites@gmail.com, with the subject line 'PET PHOTOS FOR DFY EBOOK' (in All Caps). ('DFY' stands for 'Done For You.') 
YOUR EMAIL MUST INCLUDE:

• Your pet's name, clearly typed.  Do not type anything else in the text box, please.
AND
• Your pet photos in .jpg (JPEG) or .png format, as described above.
Hurry! We very much want to be able to fill your order in time for Christmas!
You are going to love your personalized ebook!
Watch your email … that's how you will receive your personalized ebook.