Pet Writes
7-Day Trial Gold Membership
Experience the M.A.G.I.C. of Pet Writes membership!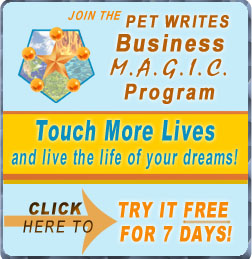 Receive all the guidance you need to turn on the M.A.G.I.C.:
Master the Entrepreneur Mindset! 

Actualize Your Passion!

What is it that makes you unique?

Learn how to put that to work for you.

Grow Your Business Strategically!

Learn a business model that puts an end to 'feast or famine.'

Inspire with Your Book or Video! 

Establish yourself as the 'go-to person for your services.

Cash In on your efforts by integrating everything you do …

to build the life you dream of.