If you've wondered about feeding your cat sardines, you may be thinking they're one of the best wet cat foods you could serve him. But … is that true? Jodie had the same question, since her kitty Misha loved those little fishies with a passion.
Misha was an energetic orange tabby and curious about everything.. She loved playing laser tag, and she liked to sneak out to visit the cat next door. But most of all, she loved to eat.
Jodie had a thing for sardines. More often than not, she'd head for the kitchen in the middle of the afternoon and open a can to snack on.
Of course, Misha wanted some too. Jodie figured that was OK, since sardines are fish. They might even be really good for Misha. But what about all those tiny bones? Could they stick in a cat's throat, cause problems?
So she hesitated. But finally she gave in and gave her one sardine. Just one. 
Mm …Misha made it clear that she liked it. No teasing it around her bowl, uh-uh. She chowed down on that little fish and came up licking her chops, ready for more.
Another one? Better not, Jodie decided. She finished off the can herself and vowed to find out more about whether it was OK to feed cats sardines.
Here's the question: What do you think? Do you feed your cat sardines? Do you want to feed him the best wet cat food you can get?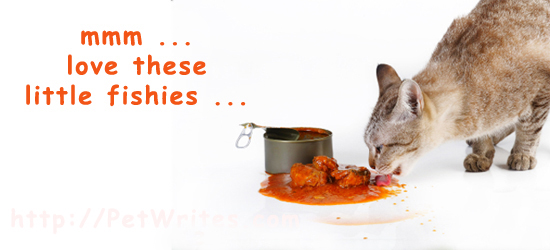 As it turned out, Jodie found that there are several dangers inherent in a fish diet for cats:
Heavy metals are very common in fish. But she also learned that since small fish, like sardines, live lower on the food chain, they are much less likely to give a cat mercury poisoning than, say, salmon or tuna.
Bacterial infection, such as Salmonella, is another concern with a fish diet. It's important to make sure any fish you feed has been properly stored and not left out.
Salt. Sardines are salty, and should be fed sparingly. Sure, cats need salt to survive. But they only need about 21 milligrams a day. More than that can lead to dehydration, death even. How would you know if your pet had eaten too much salt? Vomiting, diarrhea, depression, tremors, or an elevated body temperature could be signs of sodium poisoning.
Raw Sardines? Some say you should feed only cooked foods to avoid Salmonella, and hence no raw fish; others favor a raw cat food diet for its higher nutrient content and point out that processed foods have been recalled for Salmonella, too.
Note that some cats don't even like fish. But those that do can easily become addicted. Only feed your cat fish, even sardines, occasionally and in small doses.
Overall, of course, you want to feed your kitty a maximally healthy and tasty diet. That means one that's nearly all high-quality meat, with no meat meal or meat byproducts, and very low in carbohydrate content. Have you heard about Ziwi Peak? This New Zealand company makes what may well be the best wet cat food on the market. Their canned, dry, and air-dried cat foods are 93%to 98% meat/fish, organs, bone, and New Zealand green mussel, with only as much vegetables and legumes as a cat would get in the wild from the stomachs of prey.
They just added a new wild-caught-blue-mackerel-and-lamb recipe. (They offer this flavor for your dog, too.) They report that it's tasty, and high in Omega 3 and 6 fatty acids. Why not let your cat check it out for himself!

Pawsitively,
Chiwah Carol Slater
The Pet Story Passionista
Founder, PetWrites.com, AWriteToKnow.com, NewHealingSolutions.com
Support Desk: support@petwrites.com
NOTE: This post may contain affiliate links, and (at no cost to you) I may receive a small commission on your purchase. For example, as an Amazon Associate I earn from qualifying purchases.