Sitting in the sun, soaking up the rays, is Sofie's idea of a great way to spend the day. This little teacup Chihuahua, who loves dressing up in fancy Chihuahua clothes, is the queen of the realm – Jan's realm, that is.
Sofie came to Jan from a small dog rescue shelter. She had been dropped off by a family forced to downsize into an apartment and unable to find one where they could have a dog. That was two years ago.
At first, Jan was concerned about her ability to care for such a tiny dog. She seemed so fragile. But Sophie's friendly personality won her over, and Jan found she enjoyed the dog so much that she naturally paid extra attention to make sure she was always safe.
Last May, Jan's employer relocated his business to Chicago. He invited Jan to move with the company. Offered a significant salary increase, and mindful that finding another job she enjoyed might not be an easy task in such a tough job market, Jan agreed to go.
She and Sophie made the move from San Francisco to Chicago in June.
Adapting to life in the windy city took some doing. But the really difficult times are just now hitting, with the onset of autumn and chilly weather. Even in San Francisco, Sofie was often chilled to the bone. In Chicago? It's a daily occurrence. No two ways about it, Sofie was going to need new Chihuahua clothes.
Jan has taken this in stride. Chicago has its own wealth of doggie dress-up shops, and she and Sofie hit the fashion circuit looking for Chihuahua clothes. They came home with three warm doggie jackets, one to fit every mood. Jan makes sure her little charge is warmly clad each morning, and covers her up with extra covers at night.
Still, Sofie shivers. She looks for warm spots to curl up, one of her favorites being just in front of the fireplace. Great photo op location!
One evening, thinking Sofie was in her box, Jan sat down on the couch to watch TV. A horrified squeal made her jump right back up. Sofie had crawled under the cushion! Tiny as she was, she didn't even make a visible bump.
Fortunately, she wasn't injured. Now, Jan picks up cushions and looks underneath before sitting.
Are you thinking about getting a teacup Chihuahua? Or … is this your first winter with one? If so, have your thought about special accommodations you need to make for cold weather?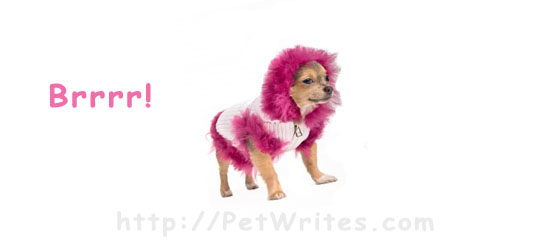 Here are some things to consider:
In cold or rainy weather, peeing on the floor may seem more reasonable than going outside. Consider setting up an indoor litter box, or install a doggie door that leads out to a covered potty area.
Even in winter, bathing is a necessity. Be sure to have a warm towel to wrap your pooch in after the bath, and then if you like you can use a blow-dryer on LOW to finish the drying process.
A shivering Chihuahua will appreciate a heating pad under her bedding.

But don't turn it up to high

. Low is probably the best temperature, as you don't want it to dry out your dog's skin or cause itching or dandruff.
A teacup Chihuahua can be a wonderful pet. They tend to be active and alert, and can be wonderful watchdogs. Jan finds that Sofie has become much more protective of her new territory than she had been in San Francisco, most likely due to the uncertainty that comes with living in new digs.
To counteract that uncertainty, Jan has been taking Sofie to meet the neighbors. This seems to help her feel more at home. Jan reports that the dog does seem to be relaxing her guard a bit.
It's not easy getting used to living in the Midwest. Sofie and Jan are making the best of it, treating it as an adventure. And doing everything they can to stay warm! Jan boufht Sofie some new clothes for the cold winter weather. If you have a teacup Chihuahua, or any tiny dog, you might like to get some too!

Pawsitively,
Chiwah Carol Slater
The Pet Story Passionista
Founder, PetWrites.com, AWriteToKnow.com, NewHealingSolutions.com
Support Desk: support@petwrites.com