Even the smartest dog breeds need good training!
In this day and age, though, being a good dog parent can be a challenge. With all the demands on your mind, how do you fit in the training you know you should be doing?
Carla Brown writes for the Sierra Sun in the Tahoe/Truckee area of the California Sierras. In her column a couple of days ago she offered some wonderful, practical suggestions to help the busy dog parent integrate training your dog into normal activities.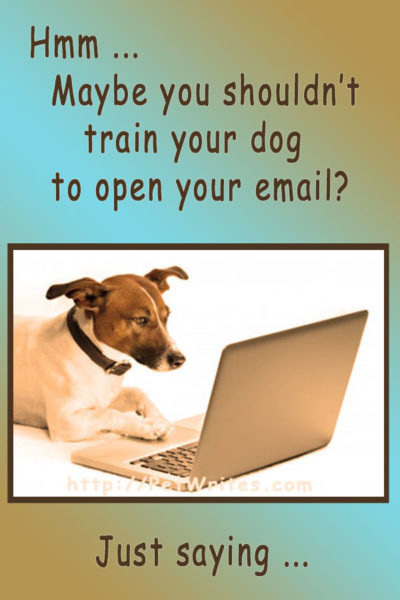 Maybe you're not out to teach your dog to check your email.
You may just want him to sit when you tell him to, or to wait for you on command. Or to heel when you're out walking.
No matter what it is you're wishing he would do, you need to be able to fit the training into your schedule.
The breeds we call the "smartest dog breeds" are called that because they're easy to train. But even if your dog is the average Fido, you will undoubtedly find Carla's tips useful.
Ask the Trainer—
Be a good puppy parent and stick with training

By Carla Brown

Dear Carla,
TAHOE/TRUCKEE, Calif. — We adopted our dog Jasper when he was about 6-months-old. Like good puppy parents, we went to a training class right away. Jasper did well in class, but now that he is 18-months-old he has totally stopped listening. Every week we promise ourselves to be better about training him, but the days fly by and we never do it. How do you motivate your students to keep working with their dogs?

Thanks,
Jasper's family

Dear Family,

For most of us, it is hard to find time for one more thing in our already over-scheduled days. Training the dog takes a backseat because is seems optional until your dog develops some horrible behavior that is really hard to correct.

Dogs thrive on structure and predictability. The "Nothing in Life is Free" method makes your dog work for every reward they receive. Rewards can be food, attention, playtime or anything your dog enjoys. If I make my dog "wait" before going out the door, I don't have to give her a treat when I release her with an "OK." Getting to go out is the reward. By integrating training into every single interaction, you will naturally train them without any extra effort.

Training sessions are most effective when they are short, fun and your dog is motivated to work. For most dogs, hunger equals motivation! Measure out half of your dog's daily ration of kibble and put it in a baggie. Use this as training "treats" throughout the day. I love this method because it keeps me honest! If I don't train, my dog doesn't eat.

Here are examples of how training can easily be integrated into your day:

1. Wake up and go out to potty: "Wait" by the door to go out. "Good dog" when they go.

2. Breakfast time: Practice some cues before eating: Sit, down, watch me, shake.

3. Time to eat: "Wait" for the food bowl to be put on the floor and "OK" as a release to eat.

4. Morning walk: "Wait" to go through the door. Have your dog "stay" before leaving the driveway and then practice "heel" if walking on leash. If walking off leash, periodically call your dog back to you and then release with "go play."

5. During your walk, stop periodically and give your dog a cue: Sit, down, etc.

6. Time to get in the car: "Load up," "wait" and "unload" can be part of this common routine.

7. Playtime can also be learning time. Have your dog "wait," throw the ball and then release him to "get it, bring it, and drop it".

My dog loves to clean the dishes after I load the dishwasher. I have her "stay" on her bed and then release her to "clean up." This kind of schedule creates structure, predictability and allows you to train as you move through the day. You will be amazed how quickly your dog learns to follow the rules and you can stop feeling guilty for letting yet another day go by without training.

— Carla Brown, CPDT is a Certified Professional Dog Trainer and owner of The Savvy Dog Training and Education Center in Truckee.
Article reprinted by permission from the Sierra Sun.
Gee, I wish our dog would clean the dishes. Just kidding! She already picks up after us. I'm not sure how my housemate trained her to do that!

She reminds us of the things we're not getting around to, too – especially if they involve feeding her!
Whether your dog is one of the smartest dog breeds or just lovable and sweet, I'm sure you'll agree it deserves good training. While it's perfectly understandable to feel pressed for dog training time, here's a great tool for taking the pressure off. You've likely seen Brandon McMillan's Lucky Dog TV show, so you know what a pro the guy is, and how kind and gentle … and effective. Let him show you fast, easy ways to get your dog training done.

Pawsitively,
Chiwah Carol Slater
The Pet Story Passionista
Founder, PetWrites.com, AWriteToKnow.com, NewHealingSolutions.com
Support Desk: petwrites@gmail.com
NOTE: This post may contain affiliate links, and (at no cost to you) I may receive a small commission on your purchase. For example, as an Amazon Associate I earn from qualifying purchases.