With Trick-Or-Treat just around the corner, the ghostie-goblin spirit has claimed Camille's heart. Halloween is her favorite day of the year. What clever disguise should she outfit her tiny teacup Chihuahua Millie in this year?
So many creative costumes! Camille (not her real name) and her 5-year-old daughter have been having major fun playing with ideas. Last year, they both went as a pink piggies. Camille carried her little dog in a pack on her back, in her own piggy costume. The Three Little Pigs!
What a cute trio they were! Three cute little pink snouts and curly tails that wiggled when they walked.
The idea of the threesome took hold. This year, Camille's daughter is dressing up as a dancing bear! So … lions and tigers and bears, oh my! Camille is going as a musical lion, complete with ukelele, and her teacup Chihuahua will be a flying tiger, with barnstormer goggles and tiger suit!
Camille went online to buy the doggie outfit you see pictured below, along with a tiger-esque doggie face mask.
After three years of dog Halloween costumes and elf costumes at Christmas, Millie took the tiger suit and the goggles on top of her head in stride. But the mask? No way! She pawed and clawed it to shreds to get it off her face. Camille bought a second one, thinking Millie would get used to it. But the dog refused to let her put it on.
Camille tried treats, hugs, everything she could think of to get Millie to submit to the mask, all to no avail.
What would you have done? And, more to the point, what are you going to do to help your little pooch be ready for Trick-or-Treat, whether he or she stays inside with you or goes out door-to-door?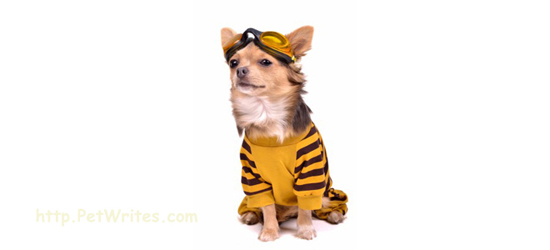 Here are some tried-and-true tips:
Seeing you in a strange get-up for the first time can be frightening to your pooch. Try on your costume in the presence of your pet to help her accept you in your strange get-up.
You need to get your pet in the mood for the wild and crazy flavor of Halloween. Start walking him around the neighborhood as your neighbors begin putting up their Halloween decorations.
If your dog is up to it and you take her out for the festivities, make sure she is snugged away safely in a backpack and can't jump out. Otherwise, tiny Halloween dogs could easily get stepped on in the hustle to the door!
And, for safety's sake, it's a good idea not to let your dog greet the kids who come to your door. The excitement and strange costumes can be confusing and overwhelming, and your pooch could react in unexpected ways.
Also for safety's sake, keep the Trick or Treat candy up out of your pet's reach. Your pet might get curious, and you don't want him suffering from the toxicity of chocolate, which can cause a serious and even fatal reaction in a dog.
Now, are you ready? Have you got your costume picked out, and one for your dog? Take plenty of pictures!
Next question: What do you do with your pictures – and your story – once Hallowe'en is over? Share them, of course! If you're just in it for the fun, sharing your story and your photos will rock your spirit.
(If you're doing business online, your photos and your story are a great lead-in to any post about your business. Why? Because nearly everyone loves pet stories and pet pictures, especially cute pictures of pets decked out for Hallowe'en!)
Have you considered writing your pet stories up into a book? It would not only delight other pet lovers, but give you the satisfaction and status of being a published author as well. If that interests you at all, why not find out what it would take? Give us a call right now at 760-586-5392 for a free 15-minute consultation.
Pawsitively,
Chiwah Carol Slater
The Pet Story Passionista
Founder, PetWrites.com, AWriteToKnow.com, NewHealingSolutions.com
Support Desk: support@petwrites.com