Meet Maizie, a Golden Retriever rescue dog. John found her at the shelter about three years ago, and fell in love with her.
But his wife, Carolyn, wasn't eager to get another dog. They had lost their last dog, Papa, also a Golden, three years earlier to cancer.
"That was a real heartbreaker for me," Carolyn says with a slow shake of her head. "It was a long and slow decline. Watching him go downhill tore us apart, both of us. It was almost a relief when he passed. I just didn't want to set myself up to go through that again."
Though Carolyn and John (not their real names) both felt the loss of Papa deeply, their grief took different forms. While Carolyn held back to protect herself from another such loss, John felt the need to be around dogs.
"That's why I started visiting the shelters around town," he says. "I didn't really have any intention of bringing home a dog, especially a Golden Retriever rescue dog, give how upset Carolyn still seemed to be over the loss of Papa. But I needed to be around dogs. And I guess I have a 'thing' for Goldens."
In the neighborhood shelter he found a few Goldens, and a Cocker Spaniel that took to him. But none of the dogs he found there touched him the way Maizie did.
"It was the way she looked at me," he says. "The way she cocked her head and sort of smiled, and then came right up and laid her head in my hand, like she'd known me forever. She wasn't the least bit shy. Not pushy, but like the minute she saw me she knew we were family. And I felt that way, too."
John was itching to tell Carolyn about this Golden Retriever rescue dog, but he wasn't sure how to do it. For two days he puzzled over it, struggling to find a way to say it that would open Carolyn up to the possibility of welcoming another dog into their life.
"Finally he just blurted it out over dinner," Carolyn recalls with a chuckle.
"She wasn't exactly receptive at first," he says. "So I didn't insist. I just told her about Maizie, and let it go at that. I didn't mention it again." He smiles. "I think it kind of worked on her, though. You know, she could feel what I was feeling, and she is a dog lover."
Three days later, Carolyn surprised him by asking him to take her to the shelter to meet Maizie. Never having visited a shelter, she was taken aback by the number of caged animals she encountered there.
"Some of those dogs were so sad," she says, looking back. "They take good care of them, walk them, play with them, but after that they go back to their cages, all alone. I told John I wanted to take them all home!"
Can you feel Carolyn's sadness, her concern, her confusion? In her place, would you have let a new dog into your heart?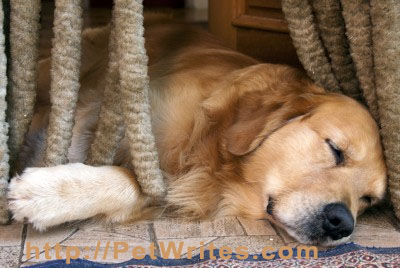 If you've ever been to a shelter, you know what she means. Here are a few facts to keep in mind if you're considering bringing a new dog into your family from a shelter:
Shelter dogs are in dire need of loving homes. Millions are euthanized each year: 60% of shelter dogs and 70% of shelter cats. This is the cost of failure to spay and neuter, of bringing more animals into the world than we have homes for.
A shelter dog has already experienced significant loss in its life. If you're going to adopt one, make a commitment to the dog. Welcome it into your family on a forever basis, come rain or come shine.
A shelter dog can be every bit as good a pet as a dog you would buy from a breeder. The main thing is to get to know the dog a little before you make your decision, to be sure the dog you're taking home is the right one for you and your family.
When John introduced Carolyn to Maizie, she saw immediately what had made such a deep impression on her husband. Now, two years later, she looks back with a big smile on her face.
"We still have our memories of Papa," she says. "Maizie was never a replacement for him. She's her own self, with a very different personality. But she did a lot to heal our hearts, mine as well as John's."
Do you have special stories about life with your pet? Have you considered writing them up into a book? It would not only delight other pet lovers, but give you the satisfaction and status of being a published author as well. If that interests you at all, why not find out what it would take? Give us a call right now at 760-586-5392 for a free 15-minute consultation.
Pawsitively,
Chiwah Carol Slater
The Pet Story Passionista
Founder, PetWrites.com, AWriteToKnow.com, NewHealingSolutions.com
Support Desk: support@petwrites.com