There's more than one way to train your dog. Most of them involve food!

Gracie had adapted easily to the slow feed dog bowl Ellie bought her last fall to keep her from inhaling her meals.
This darling little white terrier had always gobbled her food. But now, forced to take her time and work her tongue around the mini-obstacle course built into her bowl, she seemed to take it in stride.
Last Christmas, Ellie found a way to use the bowl to help Gracie get used to her Christmas present. Ellie had knitted her a cute multi-colored vest and a multicolor hat with big pompoms. On Christmas morning, she presented the box to Gracie and let her have at it.
Frst, Gracie chewed through the ribbon. Then, after using her teeth and paws to pry the lid off the box, she pushed her nose down into the tissue paper.
Ellie reached in to grab the vest and hat before the dog destroyed them. "Look, Gracie! A new vest, just for you! And a snow hat!" Gracie sniffed her new outfit and turned away. Hmm, nothing good to eat there.
Gracie sat quietly while Ellie slipped the vest over her head and worked her forelegs into the sleeves. The dog clearly enjoyed the attention. But she was not going to sit still for the hat. No way! Every time Ellie managed to get it over her ears, Gracie would grab her head between her paws and pull it off.
Ellie led her to the mirror to look at herself. But Gracie showed no interest in viewing her newly attired reflection.
The following day, Ellie pulled out the vest and hat to put them on her dog. Again, Gracie was fine with the vest. But as soon as Ellie showed her the hat, Gracie ran and hid in the closet!
Ellie was crushed.
She had made the vest and hat (and two other dog outfits) thinking it would be fun to dress Gracie up for her lessons at the canine training center. But Gracie was having none of that hat. Being of the opinion that dog obedience training should be fun for the dog, Ellie did not want to force the hat onto Gracie's head.

What would you have done?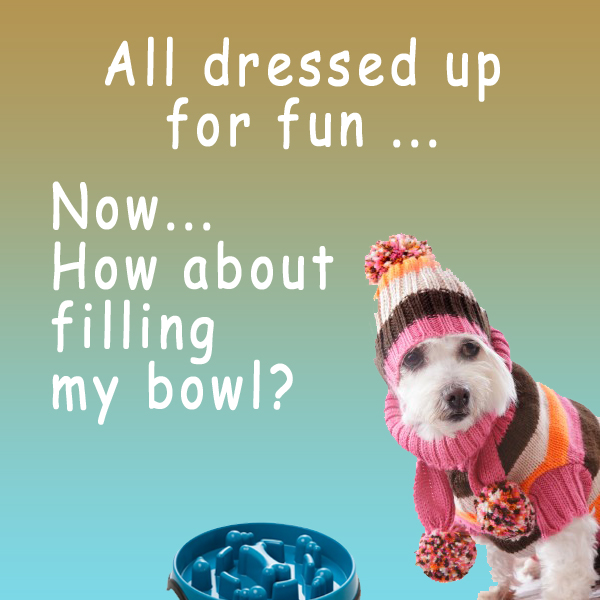 Here are some options Ellie considered:
Giving up on the hat and being grateful that her dog was okay with the vest

Handing the vest and hat over to her sister's schnauzer, who loves wearing clothes designed for dogs

Associating the hat with things Gracie already loved in hopes of winning her over.
One thing Gracie loved was DINNER. So Ellie began putting the vest and the hat on her just before mealtime, and then filling the slow feed dog bowl (the one she'd ordered because it reduced bloating by slowing down her eating) with the lamb dinner Gracie loved most. 

Now Gracie had a choice. She could take the time to paw the hat off, or she could go for her dinner. What do you think she did?
Gracie is from one of the smartest dog breeds around. After her third meal wearing her hat, she had gotten used to the feel of it over her ears. In fact, she began coming to grab the vest and hat off the shelf herself and bringing them to Ellie to put them on her before dinner!
Now, how are you going to apply Ellie's experience to training your dog? Brandon McMillan, host of the Lucky Dog TV show, has some wonderful videos to help you understand how to train your dog to do just about anything you'd want. I highly recommend this one.

Pawsitively,
Chiwah Carol Slater
The Pet Story Passionista
Founder, PetWrites.com, AWriteToKnow.com, NewHealingSolutions.com
Support Desk: petwrites@gmail.com
NOTE: This post may contain affiliate links, and (at no cost to you) I may receive a small commission on your purchase. For example, as an Amazon Associate I earn from qualifying purchases.