Sharma and Dharma are gorgeous Siberian cats. Fully grown, these two are not little kitties. Sharma, the lady of the cathouse, weighs in at 11 pounds, and Dharma, her fella, is a hefty 18. In their ten years of life they have destroyed quite a variety of cat trees.
Therein lies the challenge. These cats are athletic, and like to jump, which has taken its toll on the indoor trees and gyms Suki and Larry have bought for them.
"We are so tired of replacing cat furniture that ends up in shambles," Suki says, stroking the neck of the big guy sitting on the couch beside her. "When the cats were small, we bought them a regular cat tree. That worked fine, for a while.
"But by the time they were 18 months old, their poor bodies just would not fit on those awful square platforms! And the condo was good for absolutely nothing. So out the door it went.
"On its heels came a larger cat tree, supposedly designed with big cats in mind. But if that was so, they must have been air cats. The first day we put it up, it became obvious that it would not support the weight of this pair of Siberians."
And on and on.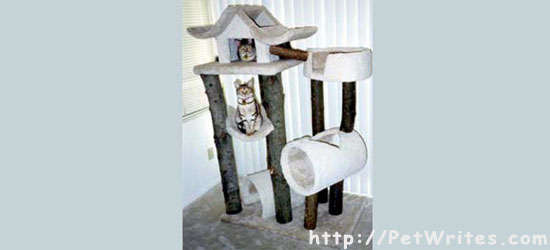 When the top platform on their most recent cat gym began to fall apart, Suki and Larry (not their real names) were at their wits' end.
"See this couch?" Suki asks, spreading an arm to make it clear she's talking about the gorgeous designer sofa she and Dharma are seated on. "It's new. Why? Because we gave up on cat trees, but we kept the cats. And they have to have a place to scratch. So … so much for our living room furniture. We paid a pretty penny for this set, and we don't want it ending up in shreds like the previous one."
What are they going to do now?
"This can't go on," she says. "I'm considering having a custom cat tree made. That's probably our best option."
What would YOU do?
Here's what I found when shopping for cat trees:
Even if the ads say they're for larger cats, most commercially available cat trees "for large cats" are really designed to accommodate several average-size cats rather than large cats. And they can take up quite a bit of space in your living room.
Most require assembly, which can be simple or next to impossible. Check out the assembly instructions before you buy.
Large cat trees run the gamut in price, from just under $100 to $2,000. The picture shown here is from angelicalcat.com, and they want $733 plus freight for this one. Pricey, yes. But Dharma could fit in its 26-inch tunnel and on the 20-inch oval bed, and it does look strong enough to hold the weight.
Hey, you got a big cat? Well, you might try building your own cat tree—but please, only if you're experienced at that sort of thing. You don't want a mega kitty falling out on its face! But take heart. I've found a super cat tree for your big meow, at the low end of the pricing spectrum. And it's big, sturdy, and nice looking. Check it out!
Pawsitively,
Chiwah Carol Slater
The Pet Story Passionista
Founder, PetWrites.com, AWriteToKnow.com, NewHealingSolutions.com
Support Desk: https://petwrites.com/support