Should you bother to ask a vet before dishing out Ibuprofen to your pets or buying drugs on the Internet?
The short answer, of course, is YES.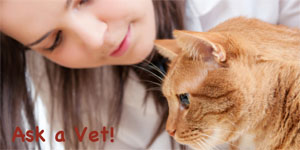 Why?
The short answer to that is that even the most mundane-appearing medications can affect animals in ways you wouldn't expect. (For that matter, they can have unpredictable effects on humans, too.)
Do you really want just the short answer? I hope not. Because I like stories, and I have one for you.

I know a man I'll call Marty (not his real name) whose cat, Soupy, was feeling mopey the other day. Just not herself. Marty picked her up and held her, and she sat there unmoving. Not like her. Soupy is a spunky cat.
Marty loves his cat. She's been with him through thick and thin. Soupy is always there, rubbing against his leg while he works. If he's feeling bad, she senses it and climbs up into his lap to comfort him.
When Soupy starts feeling bad, Marty gets nervous. He can't stand to watch her suffer.
So what did he do? He did what he does for himself when he's not feeling so hot. He gave his cat a half-tablet of Aspirin, hoping it would ease whatever was bothering her. Did she have a headache? He couldn't tell. But it was just aspirin, right? So at least it would do no harm.
An hour later, Soupy vomited. She hadn't eaten much at her morning feeding, but what she had eaten spilled out onto the rug.
Now Marty had a bigger problem. Not only was his cat sick, and getting sicker; his wife was upset at the new spot on the rug, too.
When it happened again after she ate a little something at noon, Marty's wife insisted that he call a vet. The vet told him to bring Soupy in, and a sample of her stool. So he did.
After running a few basic tests, the vet announced she'd found blood in Soupy's urine. When she asked a few questions and learned that he had administered aspirin, she congratulated him for bringing her in and explained that aspirin can cause severe seizures in a cat, and even death.
Marty was horrified. He watched as she induced vomiting and administered activated charcoal to absorb whatever acetylsalic acid might remain in her system. She kept the cat for a couple of days to administer IV fluids to balance out Soupy's electrolytes, and gave her a little sodium bicarb to alkalize her urine.
Today Marty picked Soupy up at the vet, a few hundred dollars poorer but a happy man. Soupy is her old self again.
It might not have turned out that way, the vet told him, had he waited any longer to bring her in. (Marty's taking his wife to dinner tonight to show his appreciation for making him take the cat to the vet.)
So… the question remains: What would YOU have done if your beloved pet was moping around, depleted of energy? Here are some simple suggestions:
1) Watch and wait. It might just pass.
2) If it doesn't, ask a vet what you should do.
3) Refrain from administering any medications, even aspirin, on your own.
To learn more about when you need to call a vet, and how to buy drugs for your pet online, I suggest reading a bulletin put out by the FDA: Purchasing Pet Drugs Online: Buyer Beware.
When you become a PetWrites Member, you will receive informative articles regularly on this and a wide variety of other topics, including updates on natural and homeopathic pet aids, which are often as effective as drugs (and sometimes more effective), and free of side effects. And … it's generally a good idea to play it safe and ask a vet.

To open the door to exploring how you can start sharing your pet pictures and stories – and receive your valuable FREE gift – join the Pet Writes community. It's FREE, my gift to you … so that you can give YOUR gift to the world.
Pawsitively,
Chiwah Carol Slater
The Pet Story Passionista
Word Weaver Chiwah
Writer, Editor, Writing Coach, Book Shepherd since 1984
Founder, PetWrites.com, WordWeaver4U.com