Are Cat Allergies Putting a Damper on Your Love Life?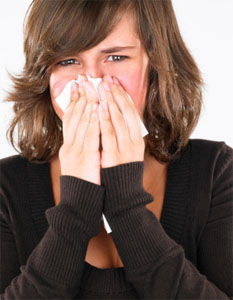 Allergic reaction to cats is a problem for ten to fifteen percent of Americans. If you're one of them, you know how miserable it can be to be in the vicinity of a feline!
Things are worse, of course, if the cat belongs to the person you're sweet on!
Denise (not her real name) had that problem. She didn't have a cat of her own – she had learned that that didn't work for her – but her boyfriend, Larry, had a Persian, and her allergy meant she couldn't spend time at her house. Worse yet, she could hardly spend time with Larry! He would have to shower before coming over, and change into fresh clothes free of cat dander.
Endangered love!
Having never had cat allergies, Larry had a hard time relating to Denise's sensitivities. At first he teased her about it, but when her nose wouldn't stop running and she couldn't stop sneezing, he agreed to take the time to clean up before coming over. But he wasn't too happy about it.
What would you do if you were Denise?
I asked one person that question and she said she'd look for a new boyfriend. But let's say Denise didn't want to go that route. What other options might she have?
Here are some ideas that have worked for other people:
Anahistamines. You can buy them over the counter as Claritin, Benadryl, or Allegra. Or, if those aren't strong enough, perhaps you can get your doctor to write a prescription for Zyrtec.
Steroids. A lot of doctors prescribe Nasonex spray for cat allergies.
Natural Allergy Therapy. Eucalyptus oil is known to soothe coughs and alleviate nasal congestion.  And Vitamin C, fish oil, flax seed, evening primrose oil, oatmeal-based soaps and shampoos, witch hazel and aloe vera gel can be helpful. Some people have found acupuncture effective. I have a friend who got rid of her cat allergies with a combination of homeopatics acupressure treatments.
Denise didn't want to go the drug route, so she went online and researched the alternatives.
Using the trial and error method, she has found that adding fish oil to her diet and increasing her intake of vitamin C have well enough that Larry no longer has to change clothes before coming over to visit. And if he remembers to turn on his air purifier and keep the cat off the furniture, she's okay with short visits to his place, too.
To open the door to exploring how you can start sharing your pet pictures and stories about dealing with cat allergies or other pet topics – and receive your valuable FREE gift – CLICK HERE to become a Pet Writes Member. It's FREE, my gift to you … so that you can give YOUR gift to the world.
Pawsitively,
Chiwah Carol Slater
The Pet Story Passionista
Word Weaver Chiwah
Founder, PetWrites.com, WordWeaver4U.com