When Cynthia started feeding orphaned kittens she found, she never expected she'd be hand-feeding them the rest of their lives!
She loves cats, and they love her. Adore her. Would do anything to get close to her. So when she discovered two orphaned kittens mewing under the apple tree in her back yard, what could she do?
She picked them up and brought them in, of course.
These were baby kits, probably less than two weeks old. They hadn't even opened their eyes! So tiny, so sweet. So helpless. They needed a mom.
These were baby kits, probably less than two weeks old. They hadn't even opened their eyes yet. So tiny, so sweet. So helpless. They needed a mom, and Cynthia rose to the occasion. She checked them for fleas. Finding none, she nestled them snug in a cardboard shoe box, padded with soft white cloth.
When she noticed the kittens shivering, she placed a heating pad under the cloth and turned it to its lowest setting. Not sure how hot it would get, she kept checking on it. When she decided it was overly warm, she placed a towel over it for insulation.
When it came time to feed the kittens, she knew what to do because she had done this before. She had some KMR (kitten milk replacer) powder on hand, and mixed a small amount with two parts boiled water to feed in a sterilized doll-size baby bottle.
Then she started feeding. Holding each kitten on its back, she gently pried their mouths open and squeezed the bottle to release one drop of milk at a time. It didn't take much coaxing to get the kittens to relax their jaws and allow the formula in. They were hungry!
Within a day their eyes opened, and soon they were putting on weight. Cynthia fed therm every couple of hours at first, then every three hours, spacing the feedings out more as they grew.
After a couple of weeks, she decided to introduce solid food. They didn't know what to do with it. So she held up a piece of the food to their mouths, petting them all the while and talking gently to them to encourage them to taste the food.
Though most kittens will take well to the transition to solid food, the grey kitten did not. She smeared a taste of chicken cat food on his palate, and he seemed to like it, but she had to sit there and pet and cajole him to get him to take a bite himself.
As the week wore on, his sister was weaned successfully, but little Smokey refused to eat unless he was being petted and whispered to! Or sung to—he would eat a bellyful at a single sitting if she sang softly to him.
What would you have done at this point?
Here are some of the things Cynthia tried:
She experimented with feeding him other flavors, but that didn't seem to make any difference.
She tried staying out of the room at feeding time to encourage him to eat on his own, but that didn't work either.
She went back to feeding him the formula for another week and then re-introduced the solid food, but he would still only eat it while she petted him and talked or sang to him.
This was last year—last June, to be exact. Grey and his sister are cat-sized felines not, full of the vigor of youth. They have the run of the house, and have proven themselves expert at finding new things to play with. In the cuteness department, they could win an Oscar.
And Grey still wants to be petted when he eats. He will come in and nuzzle Cynthia's leg and lead her to his bowl, and wait for her to start petting him before he eats. This cat is a master trainer!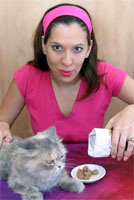 Will this happen to you if you start feeding orphaned kittens? Who knows? I guess it could happen feeding any kitten, but I suspect it happened with Grey because he needs that extra show of love he never got from his mom.
What do you think? Leave us a comment with your thoughts in the space below this article!
How has your cat trained you? Think about the routine behaviors your pet has conditioned you into. Some of them can be hilarious! Like the fellow who told me his cat had trained him to pick his slippers up off the floor so she wouldn't curl up in them. Or the couple whose cats trained them to flash laser beams on the walls …. I wish I'd been there to see that one.
To open the door to exploring how you can start sharing your pet pictures and stories about feeding orphaned kittens or other pet topics, CLICK HERE to become a Pet Writes Member. It's FREE, my gift to you … so that you can give YOUR gift to the world.
Pawsitively,
Chiwah Carol Slater
The Pet Story Passionista
Word Weaver Chiwah
Founder, PetWrites.com, WordWeaver4U.com